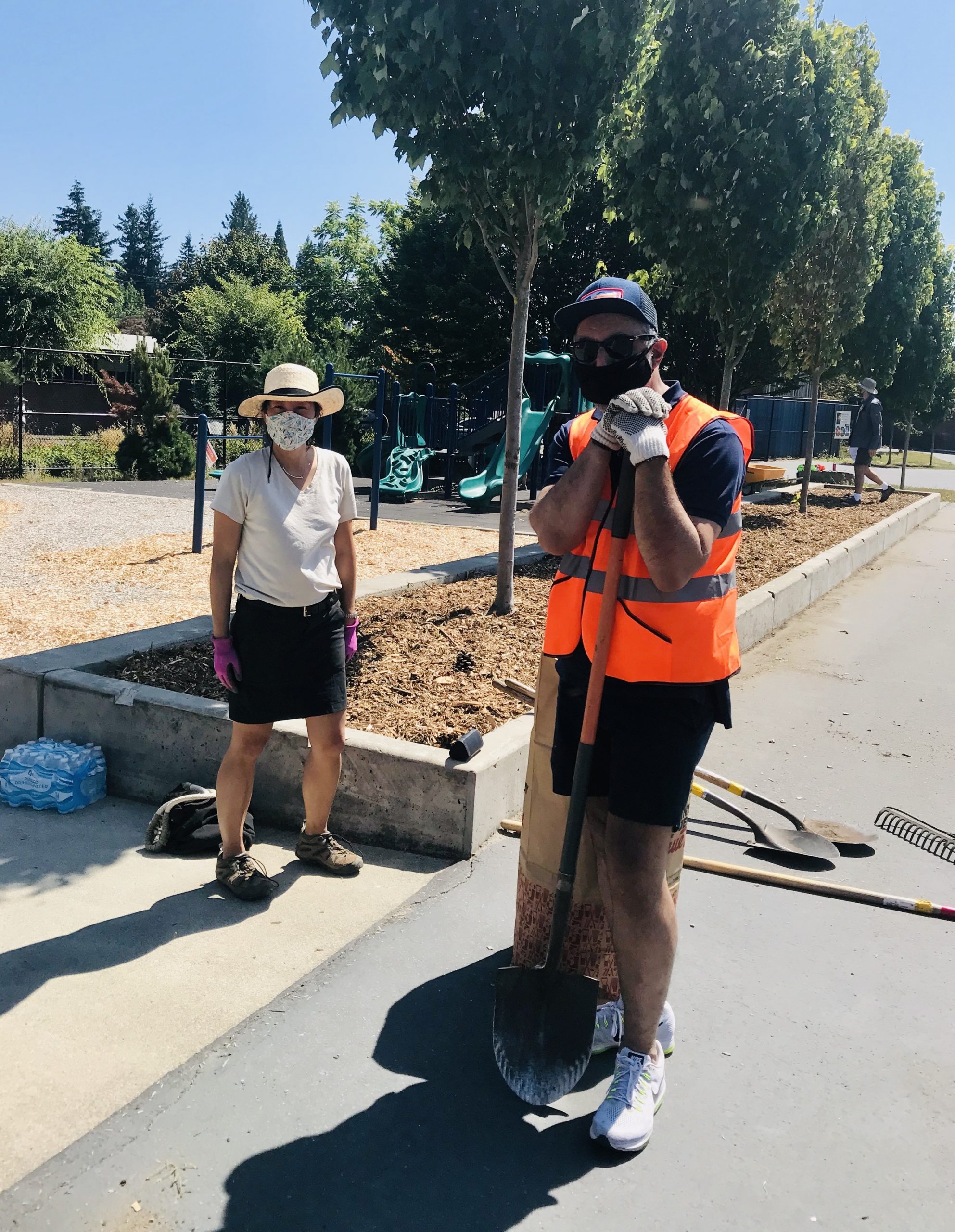 Pictured foreground to background: Zoe Brady, Kim Hyland, Angela Cherbas. – Eugene, OR
Preparing for the Holiday Season – Coeur d'Alene, Idaho
On August 29, Windermere's Coeur d'Alene offices donated $500 to Heart Reach, Inc., the non-profit food bank of the local Heart of the City Church, in support of their 2020 Turkeys and More program. With Thanksgiving right around the corner, this donation will help Heart Reach jumpstart their program year. Heart Reach will work with the United Way to identify and assist 1,700 families facing financial hardship in Kootenai County and provide them with food this holiday season.
Pictured L to R: Evalyn Adams, Heart Reach Inc. coordinator for Turkeys and More, agents Rich Dussell, Karen Hansen and Vicky Houle of Windermere Coeur d'Alene Realty. – Coeur d'Alene, ID
Let the Kids Play! – Seattle, WA
On August 5, the Windermere Sand Point office held their own Community Service Day at Thornton Creek Elementary school, readying the playground for use when school is back in session. Broker Tammy Heldridge led talks with the school district to put the event together, taking proper precautions to follow COVID-19 guidelines. Along with additional help from Heather Curiel, Brixton Ward, and Kate Chamberlin from the Windermere Northgate Office, the brokers, staff, and volunteers worked hard weeding, leveling sand, spreading wood chips and moving planters. Representatives from Seattle Public Schools' Facilities Department lent a helping hand and by the end of the day, the playground was ready for play.
Above: Pictured L to R: Tammy Heldridge and Kian Pornour
Below: R: Renee Menti Ruhl – Thornton Creek Elementary – Seattle, WA
Gardening For Food Access – Lane County, Oregon
Over the course of three Fridays in August, staff and agents from Windermere Real Estate Lane County worked to transform the gardens of local food bank Food For Lane County, whose mission is to "Reduce Hunger by engaging our community to create access to food." Working in groups of no more than ten and wearing masks, the teams took to the fields, shoveling dirt and hauling wheelbarrows, breathing new life into gardens that provide food for the community. Even though their original Community Service Day was canceled, "we still wanted to find a way to help the community, especially in a time like this when so many families are having a hard time putting food on the table due to Covid-19," said Administrative Assistant, Whitney Schmidbauer.

Above: Pictured foreground to background: Zoe Brady, Kim Hyland, Angela Cherbas. Below: Angela Cherbas – Eugene, OR
Feeding Ronald McDonald House Families – Seattle, WA
Through the Windermere Foundation, Windermere Wedgwood donated 50 chicken dinners on August 19 to Ronald McDonald House through local restaurant Wedgwood Broiler. The office was originally scheduled to make dinners for the families at the Ronald McDonald House kitchen earlier this spring. But since the pandemic put a strain on visitors and in-house meal prep, they asked for meals to be packaged and brought in for the families to enjoy. Wedgwood Broiler stepped up with meals of roasted chicken, rice pilaf and fresh veggies.
Pictured L to R: Ann O'Neil, Jay Nemitz, and Michele Flinn picked up the meals and delivered them to Ronald McDonald House – Seattle, WA
---
This post originally appeared on the Windermere.com Blog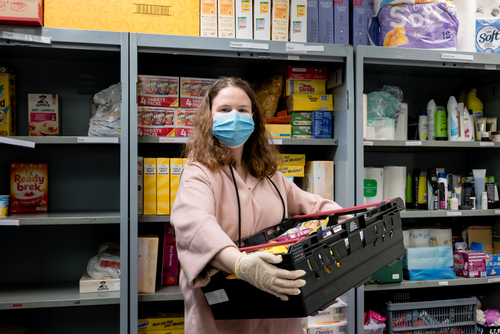 Image source: Shutterstock
The first half of 2020 has brought uncertain times and unprecedented change, and across our network, our agents and offices have rallied with their communities through the challenges of the COVID-19 pandemic. We've seen offices come together in support of their neighbors by providing meals to frontline workers, donating to local food banks, and giving their time in support of low-income and homeless families impacted by COVID-19. So far this year, we've raised over $825,000, with over $500,000 coming in second quarter alone, bringing the total raised by the Windermere Foundation to $41.8 million.
Here's how some of our offices have served their communities during the COVID-19 pandemic:
Sedro Woolley & Mount Vernon, WA
Over the course of the first half of the year, the Windermere Sedro Woolley and Windermere Mount Vernon offices have donated more than $5,000 combined to the Helping Hands Food Bank to help their mission of providing local families with healthy meals through the pandemic.
Gearhart & Cannon Beach, OR (Windermere Realty Trust)
In a joint effort through Windermere Realty Trust, the Oregon Coast offices of Cannon Beach and Gearhart raised $2,000 for the organization Food 4 Kids. Food 4 Kids' goal is to supply elementary and middle school students in the Seaside School District with supplementary weekend meals during the school year, currently feeding 235 children.
Penrith Home Loans 
Earlier this year, Windermere's mortgage partner, Penrith Home Loans, donated a total of $12,000 to the Windermere Foundation.
"The Windermere Foundation's dedication to supporting low-income and homeless families in our communities aligns with the personal values of the employees who make up Penrith Home Loans," said Maya Dartiguenave, Marketing Manager at Penrith Home Loans.
Penrith's donations supported the organizations Hopelink and Share Vancouver. Hopelink was chosen by Penrith because of their holistic approach to helping people out of poverty and its mission "to promote self-sufficiency for all members of our community." Share Vancouver was chosen because of its commitment to making Vancouver, Washington a home for everyone in the community. Examples of their work include employing an outreach team directly on the streets of Vancouver, providing emergency shelters, offering free meals to hungry children and subsidized housing to low-income families.
Neighbors in Need 
Between April 21 and May 5, the entire Windermere network came together to support local food banks through our Neighbors in Need fundraising campaign. Offices were challenged to raise $250,000, to be matched by the Windermere Foundation, for a total goal of $500,000. While coping with increased demand and a bottlenecked pipeline of food supply due to COVID-19, food banks were—and continue to be—desperate for funds to continue to serve those in need. Neighbors in Need surpassed the original goal of $500,000, raising a total of $690,000, and helping hundreds of food banks.
"I'm incredibly proud of how our offices and the community came together to raise much needed money and awareness to help food banks keep up with unprecedented needs," said Windermere Foundation Executive Director, Christine Wood. "I hope we inspire others to do the same."
These are just a few examples of how the donations flowing through the Windermere Foundation propel us forward in our mission to support low-income and homeless families in the communities across the Western U.S. If you'd like to help support organizations and programs in your community, please click the Donate button.
To learn more about the Windermere Foundation, visit WindermereFoundation.com.
---
This post originally appeared on the Windermere.com Blog